Applications for a Certificate in Irrigated Rice Farming
Smart Farmer Program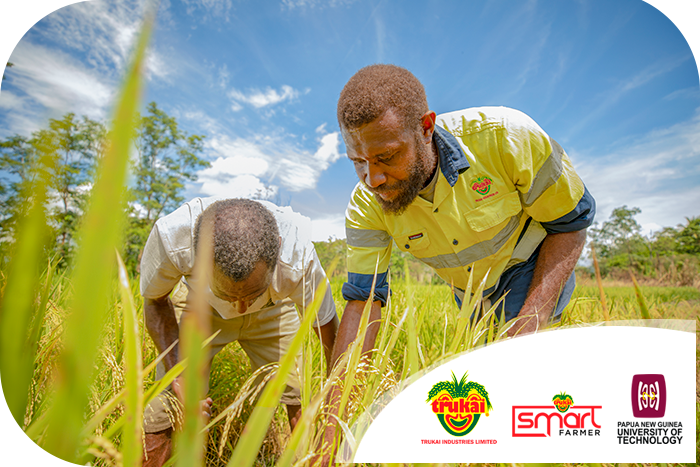 CALL FOR APPLICATION - SMART FARMER PROGRAM
CERTIFICATE IN IRRIGATED RICE FARMING
The Papua New Guinea University of Technology through the Agriculture Department wishes to invite applications for a Certificate in Irrigated Rice Farming. This short-term training program is conducted in partnership with Trukai Industries' Smart Farmer Program.
Eligibility
To be eligible to apply, applicant must:
Be an experienced crop farmer
Have a piece of farming land that is close to a water source
Have a cropping area that is accessible by road
How to Apply
Application forms can be requested via email TruFarmersTraining@trukai.com.pg or collect from your nearest Trukai Distribution Center.
The completed form must be sent with a support letter from a village councilor or district administrator from your local area.
Faxed applications will not be processed.
Applications received after closing date may not be processed.
Accommodation is provided however, meals and travel arrangements are the sole responsibilities of the trainee. The university reserves the right to make change(s) to the program or withdraw without notice.
Send completed application forms to TruFarmersTraining@trukai.com.pg or drop it off at your nearest Trukai Distribution Centre by Friday 16TH December, 2022.
Payment of Fees
A fee of K200 must be paid to the account details provided below. This is to cater for accommodation, transportation and all training resources.
Account Name: UNITECH TRUST FUND
Account Number: 11188172
Bank Name: KINA BANK
Branch: LAE
BSB Code:028 014
Swift Code: KINIPGPG
Your name and program applied for MUST be clearly printed on the bank receipt or you can pay by eftpos during the registration period.
FOR MORE INFORMATION
Please contact Trukai Farms on 472 2246 or 7373 8300
Email: TruFarmersTraining@trukai.com.pg