Chef Julz Henao is Trukai's Brand Ambassador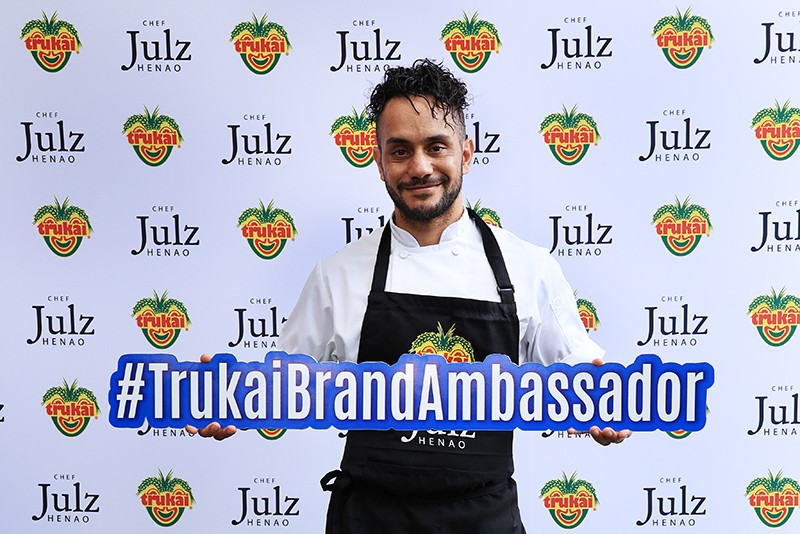 Trukai Industries Limited has announced Chef Julz Henao as its brand ambassador with their Trukai brand at a launch event in Port Moresby today.
Trukai Industries Limited Marketing Manager, Maryanne Tom said they are delighted to be associated with one of PNG's premier chefs. Tom said Chef Julz is passionate about healthy nutritious food as is Trukai Industries who have manufactured high quality and vitamin enriched rice for over 50 years.
The Trukai brand depicting a traditional styled mask with a smiling face in the yellow, green and red colours is one of the most recognised and iconic food brand in PNG. The Trukai brand products come in three varieties, medium grain, jasmine and natural brown.
"Trukai is a trusted household name and is synonymous with rice, quality, sport and health. Through the years Trukai has been associated with various sporting partnerships such as weightlifting, the Trukai Fun Run, international and domestic rugby league and in recent times SME fitness clubs.
Chef Julz Henao has worked in restaurants in Hong Kong, Sydney, London and Port Moresby and his catering company, The Healthy Food Company strives on using the best quality ingredients that includes local PNG food.
"This exciting collaboration with Chef Julz will bring to our consumers some fresh new vibrant recipes using PNG's local produce Trukai rice. He'll be creating a range of recipes to suit different budgets and tastes using his own signature style as he has the ability to make food fun and exciting."
"It's a refreshing change for the Trukai brand because it's a shift towards what brings Papua New Guinean families together and that is sharing a meal with the ones you love. Food has always been the centre of PNG's rich tradition and culture. This communal and collectiveness forms the basis of the PNG culture and our way of life and Trukai has been a part of this history for generations."
Commenting on the partnership, Henao said "The collaboration between Trukai and I is well suited since I strongly believe our morals and values align, especially in the sense that both brands support local produce, health and sport.
"Trukai has been a brand affiliated with sport and health for as long as I can remember growing up in PNG as a kid.
"It's been a household brand that a lot of families relate to, trust and enjoy. I'm very excited about this venture and I look forward to what we can achieve togather over the duration of this collaboration."
Meanwhile, to coincide with the launch of Trukai's new brand ambassador, an exciting promotion will run on its new Trukai brand Facebook page. The new page is dedicated to all Trukai brand related activities. Prizes will include the latest Samsung S21 mobile phone and co-branded Trukai and Chef Julz merchandise.