SunRice Group commemorates partnership with the PNG University of Technology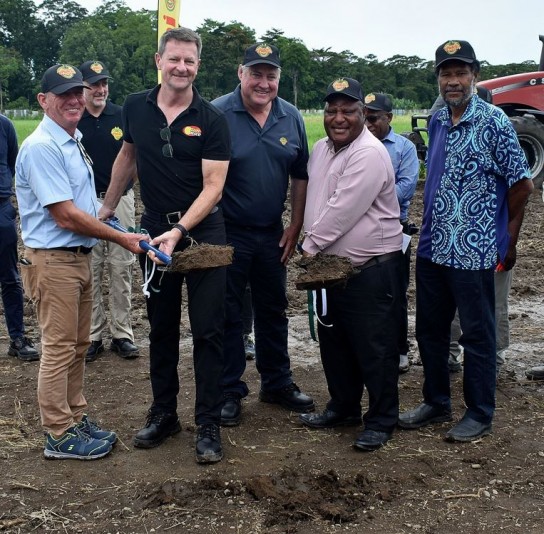 The SunRice Group and the PNG University of Technology recently commemorated the development of eight hectares of land given as a training farm for participants of Trukai's Smart
Farmer Program.
The ground-breaking ceremony was officiated by SunRice Group's CEO Rob Gordon, Trukai Industries' CEO Alan Preston and Unitech's Acting Vice Chancellor, Dr. Garry Sali.
Trukai Industries is a subsidiary of the SunRice Group which owns two-thirds of the company with the remaining shares held by the people of Papua New Guinea through the Melanesian Trust
Services Limited who manage the Pacific Balanced Fund.
SunRice Group CEO Rob Gordon was grateful for the opportunity to participate in the event as it demonstrated SunRice's and Trukai's core values of innovation, sustainability and community.
"As leaders in our industry here in PNG, it is our responsibility to develop programs that benefit the places we operate in and its people. This collaboration with Unitech, who has been one of our longtime partners, reinforces this commitment to the people of Papua New Guinea," said Gordon.
He added that this partnership also demonstrated the company's support for local rice farmers through Trukai's Smart Farmer Program and is their contribution towards rice development in PNG.
It is one of many past rice projects that Trukai Industries has supported or led in partnership with Unitech and NARI.
The ground breaking ceremony will commence the construction of two dome sheds, two silos, a rice drying facility, mini seed cooling room and an office space.
This is part of the five-year private-public partnership agreement that Trukai Industries had signed with Unitech last October.
Unitech's Acting Vice Chancellor, Dr. Garry Sali emphasized on Unitech's role in the development of Papua New Guineans, stating that it is their vision to grow world-class technocrats for the real world.
"Unitech in partnership with Trukai Industries is focused on serving this purpose and we look forward to being a part of this expansion of the rice industry that will impact the lives of our people," said Dr. Sali.
Trukai Industries with the support of the SunRice Group has been supporting Agriculture in PNG since 1989. This has resulted in the company spending millions of kina in investments in local rice farming, testing of different agricultural crops, training of local farmers and providing sustainability kits for subsistence and semi commercial farming.