Trukai Announces its Champion Sponsorship of the 2022 Morobe Show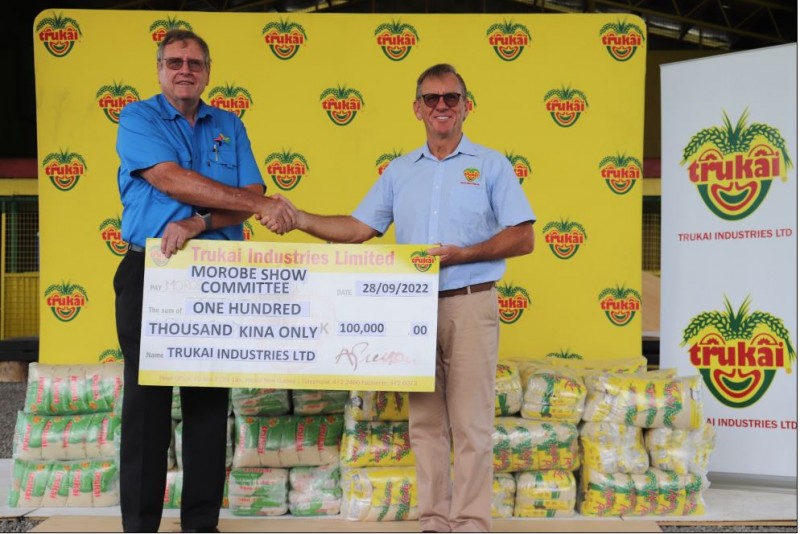 Trukai Industries is proud to announce the renewal of its Blue Ribbon sponsorship towards the 2022 Morobe Agricultural Show with a pledge of K100,000 in cash and kind and commitment to support the show for 5 years. Trukai Industries have been a Blue Ribbon sponsor and longtime supporter of the show for more than 25 years.
Trukai Industries Chief Executive Officer Alan Preston explained that the company was delighted to support the show.
"This sponsorship demonstrates Trukai's support towards the development of the agriculture industry in PNG as this event brings together likeminded stakeholders to collaborate and develop opportunities with a common objective to boost the industry," said Preston. It's a great opportunity to give back to the communities not only in the Lae and Morobe provinces but as far as Madang and the Highlands region.
President of the Morobe Show Committee Mike Quinn said they were grateful to Trukai for supporting the show as a Blue Ribbon sponsor.
"We are grateful for this support as we have seen that orgnisations like Trukai are extremely beneficial for us because without them we wouldn't have the show, said Quinn.
The rice company is looking forward to another successful show next month with their main attraction at the Trukai Village being the highly prized Trukai buckets amongst other merchandise and special guest appearance from Trukai's Brand Ambassador Chef Julz Henao. There will be a mini rice plot demonstrating the different stages of rice planting and growing and rice farmers are welcome to register to be a part of the smallholder program led by the Trukai Agriculture Department.