Trukai announces K50,000 sponsorship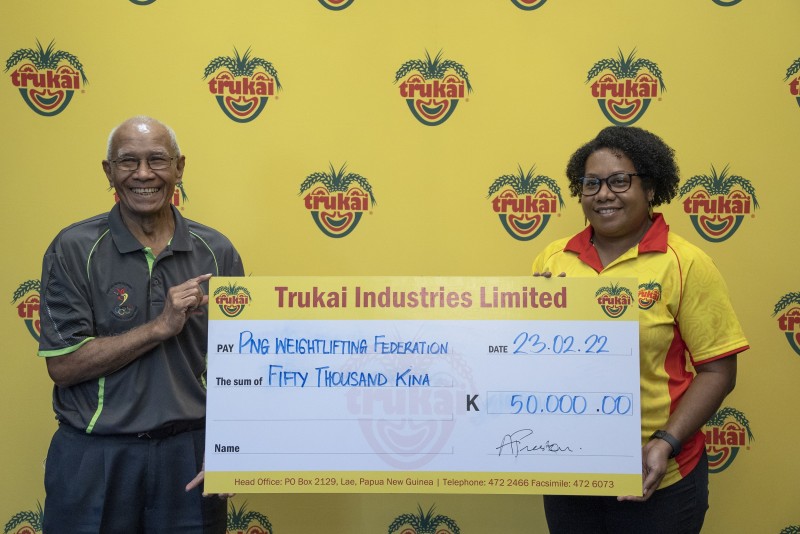 Trukai has once again shown its support for sports in PNG with its sponsorship of the PNG Weightlifting Federation Inc.
With a total sponsorship of K50,000 this will go towards supporting the PNG Weightlifting Federation and its athletes attend international sporting events and reinforces Trukai's dedication in investing in this sporting code.
Trukai's Marketing Manager, Maryanne Tom said this sponsorship signified the partnership between Trukai and the PNG Weightlifting Federation Inc.
"Trukai has always been a strong supporter of Team PNG through our sponsorship of the PNG Olympics Committee, and this specific sponsorship of the PNG Weightlifting Federation Inc. further reinstates our focus in developing sports in PNG and cements our support for the weightlifting sporting code," said Tom.
Trukai has been a supporter of the PNG Weightlifting Federation Inc. for 22 years and through this sponsorship, PNG has seen weightlifting athletes such as Dika Toua, Steven Kari and Morea Baru achieve prestigious placings and even win medals at international sporting events such as the Oceania Championships, Commonwealth Games and the Pacific Games.
President of the PNG Weightlifting Federation Inc. Sir John Dawanicura, acknowledged the support given by Trukai which he said would go into funding their administrative work and upcoming international sporting events.
Sir John said, the athletes go through many sacrifices leaving their families behind to perform and give their best when they are at the international sporting arena representing PNG and highlighted both Dika Toua and Morea Baru's achievements in the weightlifting scene.
"Both Dika Toua and Morea Baru are ranked number one in the Oceania, while in the Commonwealth, Baru is ranked number one while Toua currently sits in second place," said Sir John.
Trukai also sponsors the weightlifters through incentives in cash and kind which demonstrates our continued support towards these elite athletes and their families while they are away participating at international tournaments.
"Dika and Morea are a part of Trukai's Brand Ambassadors through our individual sponsorship. Signifying Trukai as the brand choice for health and wellbeing in PNG. We also offer tournament incentives for when both athletes are participating at international sporting events. If one of them win a medal they will be rewarded with a cash incentive" said Trukai's Brand Consumer Manager, Casey Kwasam.
Trukai is the official sponsor of the PNG Weightlifting Federation Inc. and is looking forward to building and continuing this partnership through the years to come as it continues to be an important corporate partner in developing sports in PNG.