Trukai renews Hiri Moale festival sponsorship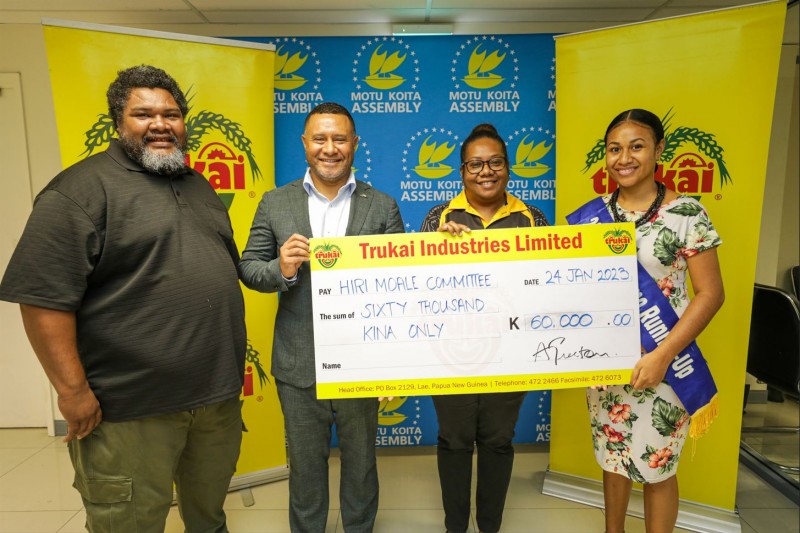 Trukai Industries Ltd under its Trukai brand has renewed its sponsorship of the Hiri Moale Festival's Vanagi Heau Helulu (canoe) race.
Trukai Industries has signed a two-year agreement with the Motu-Koitabu Assembly with an annual sponsorship valued at K60,000, positioning Trukai as the major and naming rights sponsor of the Vanagi (canoe) race, one of the main events of the Hiri Moale Festival. The sponsorship will cover the preparation of the race and prize money for the winners of categories A and B.
Trukai Industries Marketing Manager Maryanne Tom said the company was proud to be the major and naming rights sponsor of the Vanagi race once again as this renewed sponsorship demonstrates Trukai's support for cultural and local sporting activities.
"The Trukai Vanagi race is part of the three-day festival and we are excited to be part of it this year following its success last year, therefore, our commitment to another two years," she said.
At Trukai we strive to support community activities that preserve cultural practices and traditions as Trukai's rich history is also embedded in PNG's culture," she reiterated.
Chairman of the Motu-Koita Assembly, Dadi Toka Jr, thanked Trukai's continuous support of the Motu-Koita people.
"Trukai has always been a supporter of the assembly's program and projects and this particular festival is something that the people hold dear to their hearts."
"Thank you to Trukai for being a partner to a cultural event and for keeping the cultural identity of the people alive through the festival."
The three-day festival will showcase the best of Motu Koita culture from the 3rd – 5th March 2023 in the nation's capital, Port Moresby. It will feature traditional singsing groups, the re-enactment of the arrival of the Lagatoi and the Hiri Hanenamo crowning. The Trukai Vanagi Race will take place on Saturday 4th March 2023.
President of the Poreporena Canoe Racing Association and the coordinator of this year's canoe race, John Pogi, said that there will be a large number of participants this year.
"This year, we are anticipating more than 60 canoes from various villages throughout the Motu-Koita area."
Applications to participate in the Vanagi race are now open and will close on February 28th. Participants who are interested can get more information from the Hiri Moale Committee.
A total of 45 canoes participated in the Vanagi race last year with the category A winner being Saubolo which won K10,000 while the category B winner Waikato which won K5,000.