Trukai signs MOA with PNG Unitech to develop rice farming in PNG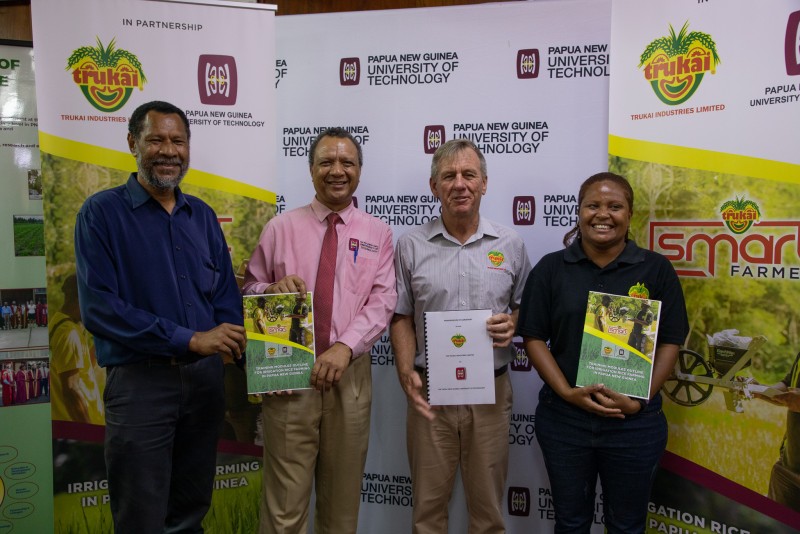 Trukai Industries Limited has ventured into a partnership with the Papua New Guinea University of Technology to train rice farmers under its Smart Farmer Program.
Trukai's Smart Farmer program aims to pave the way for local rice farmers to be able to receive an education accreditation from a recognized tertiary institution in Papua New Guinea.
This partnership long term aims at transforming local rice farmers from sustainable farming into commercial rice farming.
A Memorandum of Agreement was signed today at the University of Technology's Taraka Campus in Lae.
This five-year agreement is a private-public partnership for the promotion of academic and professional collaborative of rice research and training through the advancement of science and technology.
Trukai Industries' Chief Executive Officer Alan Preston said this partnership demonstrates the company's support for local rice farmers through Trukai's Smart Farmer Program and is their contribution towards rice development in PNG.
Trukai Industries' Rice Development Manager Aina Davis said this training will be more practical based and will be for a period of two weeks. It is through this program that the company aims to enable local rice farmers to become small holder farmers then transition into semi commercial and commercial farmers.
She said the Trukai Smart Farmer Program will touch on the basics of irrigation rice farming and will be for farmers of all levels from elementary to commercial based farmers.
The collaboration with the University's Agriculture Department will enable farmers to share and access classrooms, research laboratories and farm or field facilities for farmer training as well as undergraduate and postgraduate student training, research and development, and extension activities.
Head of the Agriculture Department, Professor Macquin Maino stated that the department and University is pleased to collaborate with Trukai in this five-year agreement.
He said this MOA is beneficial for students from the department as well as part of the agreement will have students engage in work-integrated-learning experiences with Trukai, and learn hands-on skills from professionals in the field.
Prof. Maino added that as part of the agreement, the University will provide eight hectares of land at the University Farm for the purpose of rice development projects and training on rice farming systems.
Vice Chancellor, Associate Professor Dr. Ora Renagi, said Trukai Industries is a longtime partner and supporter of the University and the Agriculture department for over twenty years. This partnership further strengthens that professional relationship between the two organizations.
Registration will open for the Certificate in Irrigation Rice Farming later this year. The Trukai Smart Farmer program will see three hundred farmers certified in its pilot training in 2023.