Trukai starts "Eat Smart" campaign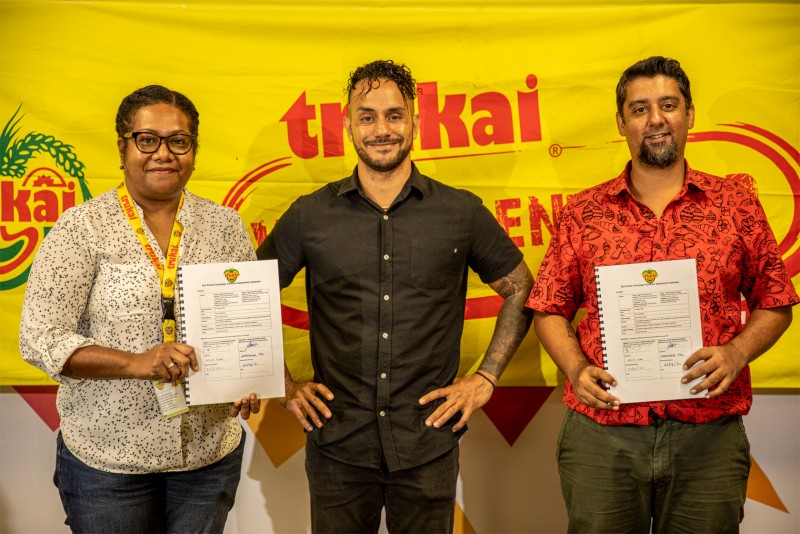 Today (Wednesday August 25th) Trukai Industries Limited signed on as a sponsor for the Eat Smart campaign, in partnership with Pidgin Productions.
The campaign is aimed at promoting healthy eating choices, by encouraging Papua New Guineans to use simple local produce straight from the land and creating nutritional wholesome meals, values which are aligned with the company's TruInspiration campaign through its Trukai brand that encourages healthy eating and lifestyle.
Trukai Industries Marketing Manager, Maryanne Tom said that this partnership is a progression of the great relationship already in place with the Healthy Food Co's founder and current Trukai Brand Ambassador, Chef Julz Henao.
"We have received great feedback and engagement since the launch of our Trukai TruInspiration campaign in May with Chef Julz Henao, hence we look forward to maintaining the momentum to help spread the positive lifestyle messages that the Eat Smart Campaign embodies."
Malnutrition in children under the age of five is becoming more prevalent in our country hence we hope through this campaign we can help address this soon to be epidemic. Currently one in five deaths of children under the age of five is caused by malnutrition. The effects of malnutrition include stunted growth and can affect a child's learning therefore impacting their future and the opportunity to do well in life. This is why for over two decades, Trukai has been a huge supporter of organizations with monthly rice donations, and we aim to continue to look at opportunities to work with such organizations that are already addressing the issue of malnutrition in PNG.
Another growing concern is the increase of lifestyle diseases, with many Papua New Guineans dying at a young age.
"Trukai wants to help foster behavioral change in the way people approach food while at the same time make them more aware of the impact that their health has on the nation as a whole.
"Under our premium Trukai Brand, we have three varieties of rice, Medium Grain, Jasmine and Natural Brown. Rice has become a staple in every Papua New Guinean's diet but a lot of people don't realize that rice is healthy. Many of the nutrients found in brown rice help keep your heart healthy. It's a rich source of dietary fiber and magnesium. White rice on the other hand is easy to digest, gluten free and a power house of energy hence it's a lot of athletes' go to carbohydrate."
"Trukai prides itself in ensuring all our white rice is vitamin enriched with thiamin, niacin and iron, giving Papua New Guineans an even healthier choice for themselves and their families."
"The progress of a nation depends on its people, healthy people build a strong nation, and we must make a change today if we want to have a stronger more vibrant PNG in the future."