Trukai supports Frangipani Festival and the 2022 Goroka Show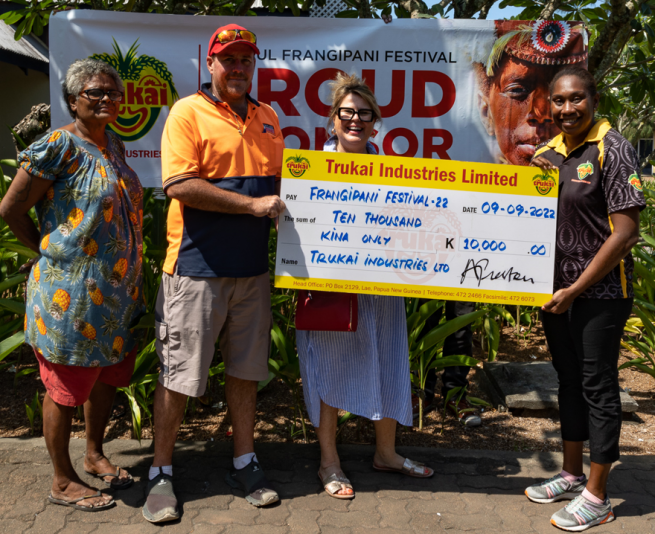 Trukai Industries is proud to support the Rabaul Frangipani Festival and the Goroka Show that are set to take place during this Independence weekend.
The Rabaul Frangipani Festival will take place at various locations in Rabaul town while the Goroka Show is set to happen at the Goroka Showground.
Trukai Industries has come on board as gold sponsors for the Rabaul Frangipani Festival with a total sponsorship of K10,000.
Frangipani Festival Committee Chairlady Susan McGrade acknowledged and thanked Trukai for their support.
"The Rabaul Frangipani Festival Committee is thrilled to partner once again with Trukai Industries on this longest running grassroots community event," said McGrade.
With this year's theme being "ENB reboot" or ENB kirap gen in Tok Pisin, McGrade explains that it is an event that promotes unity within the province.
Trukai Industries also came on board as a bronze sponsor for the 2022 Goroka Show with a total sponsorship of K20,000 with added donations including one tonne of Roots Medium Grain Rice for the singsing groups and merchandise for the singsing marshals.
Chairlady of the Goroka Show Committee Keryn Hargreaves was grateful of Trukai's continued support and partnership.
"The Goroka Show Committee would like to thank Trukai Industries for coming back on board to support the 2022 Goroka Show. The show is for the people of Eastern Highlands Province and Papua New Guinea as it is a big cultural event and a tourism booster for PNG," said Hargreaves.
Trukai Industries Marketing Manager Maryanne Tom said they were pleased to be a part of both shows.
"We are happy to support these events that promote local arts and culture because our rice is integrated into our culture and traditions and this demonstrates our commitment to the people of PNG.