Trukai Supports Trash to Treasure Festival with K10, 000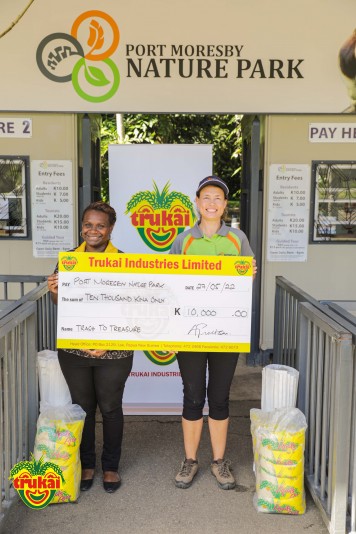 Trukai Industries Limited has continued its support for Port Moresby Nature Park's BSP Trash to Treasure Festival, for the third consecutive year as Event Sponsor with K10,000 in sponsorship.
The sponsorship was presented on behalf of the management of Trukai Industries Limited by Ms Andrea Tagamasau, Trukai's PR & Communications Manager last week Friday at the Port Moresby Nature Park.
Receiving the sponsorship was Port Moresby Nature Park's Interim CEO, Kelsey Engle.
"We are grateful for the support we've seen among corporate houses for this very event and we thank you Trukai Industries for believing in us, our mission in conservation and caring for the environment, and for doing your bit too in helping us promote the work that we do here at the Port Moresby Nature Park", said Ms Engle upon receiving the dummy cheque from Trukai Industries.
Trukai's Chief Executive Officer, Alan Preston said that Trukai was delighted to sponsor K10,000 towards the Trash to Treasure Campaign as it strengthened the company's sustainability initiatives which is one of its core values.
"We value environment preservation and we believe in working together with such an organization like Nature Park that helps preserve the natural environment for a better future" said Mr Preston.
Apart from the cash sponsorship, Trukai Industries has donated all its past promotion entries of empty polysack bags and PET packaging for sculptures to be created. And has been supporting the Park's wildlife team since May 2021 with a monthly donation of rice to help feed the Park's animals.
Port Moresby Nature Park with the support of Trukai Industries Limited and all its sponsors and supporters, will host the BSP Trash to Treasure Sculpture Festival for 5 weekends from 4th June – 3rd July for all to see and the Park welcomes everyone to be part of this wonderful community event.