Trukai's Smart Farmer Program Begins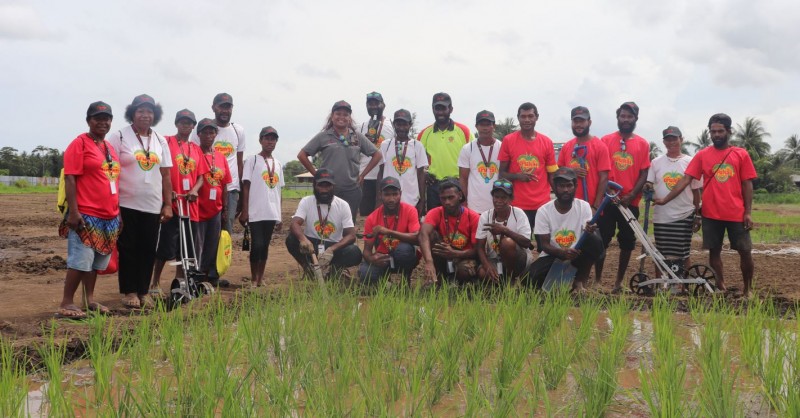 Farmers from all over PNG enrolled in a rice farming training conducted and funded by Trukai Industries in partnership with the University of Technology.
Trukai Industries' Smart Farmer Program is a two-week certificate course that is currently taking place at the University of Technology's Taraka Campus.
A total of 100 participants from Morobe, Madang, Western Highlands, Jiwaka, Simbu, Easten Highlands and Central Province will undergo both practical and theory aspects of this program with the underlying aim to help farmers start their rice farming business.
Rice Development Manager for Trukai Industries Aina Davis said participants will be taught using four modules.
"We have already covered the first and second modules which were Introduction to Rice and Rice Environment and Irrigation Farming. By the last week of the program, we will complete modules three and four which are Rice Cultivation Cycle and Rice Farming Business and Management," said Davis.
She added that the participants were excited to be a part of the Smart Farmer Program as they will be certified farmers under the Agriculture Department of the University of Technology.
CEO of Trukai Industries Alan Preston said this program is for farmers of all levels from elementary to commercial based farmers and demonstrates the company's support for local rice farmers in PNG.
"This program is our contribution towards rice development in PNG and we are looking forward to the positive outcome this will have on the livelihoods of the participants and their surrounding communities," said Preston.
"Unitech have been a long time agriculture partner of Trukai Industries working collaboratively on rice farming projects in the past. Through this new program with the institution we aim to enable local rice farmers to become small holder farmers then transition into commercial farmers," he added.
Participants of the Smart Farmer Program will engage in work-integrated-learning experiences with Trukai Industries' Agriculture team and learn hands on skills from professionals in the field.
Unitech Agriculture Department's Plant Breeder, Professor Tom Okpul, commended Trukai's initiative in teaching valuable rice cultivation skills to local farmers.
"Trukai is one of our major corporate contributors in it's support in agriculture research and scholarship programs.
"The Smart Farmer program will help local farmers acquire skills in irrigation farming, which will be beneficial for them in the long run."
This new partnership with the PNG University of Technology's Agriculture Department will enable participating farmers of the Smart Farmer Program to share and access classrooms, research laboratories and farm or field facilities for farmer training as well as undergraduate and postgraduate student training, research and development and extension activities.